Are you a bride-to-be looking for the perfect wedding dress? If so, you're in luck! We've scoured the runways of Bridal Fashion Week to bring you the top wedding dress trends for 2024. Whether you're a fan of classic elegance or daring avant-garde styles, there's something for everyone in the upcoming collections.
One of the standout trends from the Spring 2024 collections is the use of oversized floral motifs. Designers like Nardos, Madeline, and Badgley Mischka showcased dresses featuring bold and vibrant floral designs. This modern take on a classic bridal style offers a breath of fresh air for brides looking to push the boundaries of tradition. Imagine walking down the aisle in a gown adorned with larger-than-life flowers, making a whimsical yet feminine statement.
2. A Penchant for Pastels
If you're tired of the traditional white wedding dress, then you'll be pleased to know that pastels are making a splash in the 2024 collections. From baby blues to soft pinks, designers like Savin London, Ines Di Santo, and Kelly Faetanini showcased dresses in a variety of pastel hues. These colors add a touch of romance and uniqueness to your bridal look, allowing you to stand out from the crowd. Embrace the idea that pastels are anything but passe and make a statement on your special day.
Fashion has a way of repeating itself, and the '90s are making a comeback in the world of bridal fashion. Minimalist designs and understated silhouettes from this era have a beloved place in bridal design. Designers like Katherine Tash, Kelly Faetanini, and Nardos embraced turn-of-the-century charm by showcasing looks featuring luxe satin fabrics, structured bodices, and clean lines. If you're a fan of timeless elegance with a touch of nostalgia, this trend is perfect for you.
Need invites printed? Check out Basic Invite for Ultimate Customization
4. Elegance Deconstructed
The rise of subversion in streetwear has influenced a new era of bridal fashion that defies categorization. This trend can be defined by its incorporation of elements of deconstruction, revealing the underpinnings that are not normally meant to be seen. Exposed boning, distressed skirts, asymmetric necklines, and raw hems are just a few examples of this avant-garde style. Designers like Cinq, Danielle Frankel, and Nardos debuted these unique looks, catering to both free-spirited and femme fatale brides.
Embrace your individuality and make a bold statement on your wedding day.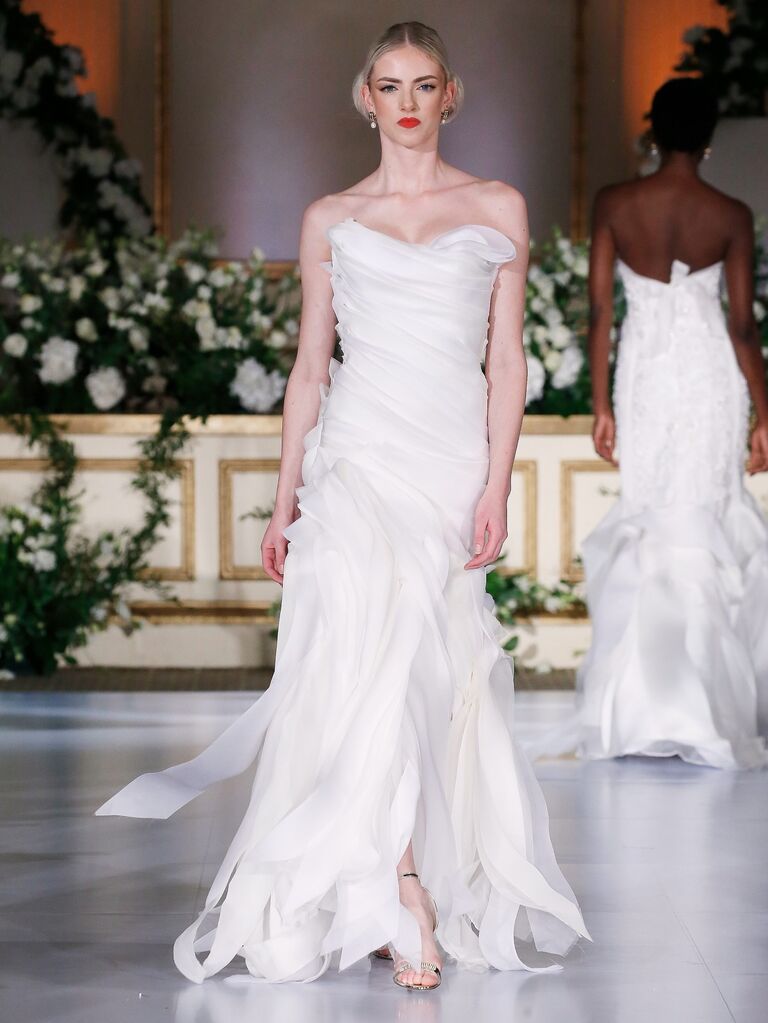 If you're looking to make a daring statement on your wedding day, consider wearing a black dress. This trend, popularized by Australian brides, has gained traction among Gen Z brides who are rewriting the rules of wedding fashion. While some may view black as the antithesis of tradition, it offers a unique and elegant alternative to the traditional white gown. Many designers included at least one black option in their collections, and the trend is expected to continue to grow. For a touch of contrast, some black lace designs offer the option to add a nude or white underlay.
6. Echoes of the Jazz Era
The 1920s flapper, known for her desire to flout tradition, is a fitting inspiration for the modern bride. Designers have embraced the sentiment of individuality and are leaning into modern takes on 1920s staples. Drop waists, ornate beading, and art deco designs have all made a comeback, reimagined as classic elements of bridal fashion. Brands like Ese Azenabor, La Premiere, and Danielle Frankel showcased looks that capture the spirit of the Jazz Age while adding a contemporary twist. If you want to defy convention and stand out on your wedding day, consider this trend.
7. A Motion Towards Maximalism
After years of intimate microweddings and elopements, large weddings are back and better than ever. And what better way to celebrate than with sequins and sparkles? Designers like Madeline, Jimme Huang, and Arava Polak showcased a variety of dresses adorned with all things sparkly. This trend embraces a sense of celebration and glamour, perfect for brides who believe that more is more. While minimalism will always have its place in the wedding fashion world, there's no shortage of bridal glam in 2024.
8. Tasteful in Transition
Change can be a good thing, and the convertible dress trend is a testament to that. Designers are getting creative with versatile looks that seamlessly transition from the ceremony to the reception. Whether it's detachable sleeves, skirts, or trousers, these dresses offer brides the opportunity to showcase different looks throughout their big day. Brands like THEIA, Nadia Manjarrez, and Mark Ingram wowed us with their innovative designs, giving brides the freedom to customize their wedding look.
9. Age of Embroidered Eminence
Artisanal touches are a popular choice for modern brides who want to add a personal and unique element to their wedding day look. Embroidery offers endless possibilities for customization. Designers have showcased fresh and modern ways to incorporate embroidery into classic bridal styles. From hand-drawn botanical designs to bold custom lettering on veils, this trend allows brides to make a truly personal statement. Whether you want a subtle touch of embroidery or a bold and intricate design, this trend is perfect for adding a touch of artistry to your bridal ensemble.
The wedding dress trends for 2024 are an exciting mix of classic elegance and daring innovation. From oversized florals and pastel hues to deconstructed designs and black gowns, there's a trend for every bride's unique style. Whether you embrace the nostalgia of the '90s or the glamour of the Jazz Age, these trends offer an opportunity to make a statement on your special day. Whether you choose a ball gown, a dress adorned with feathers, or a gown with a big bow, these trends allow you to express your individuality and create a bridal look that is truly one-of-a-kind. So go ahead, embrace the trends, and let your wedding dress be a reflection of your personal style and love story.
Disclosure: Some of the links above are affiliate links. This means that, at zero cost to you, Zion Brides will earn an affiliate commission if you click through the link and finalize a purchase.